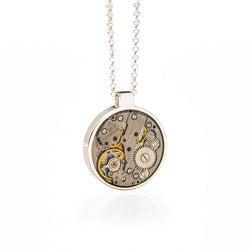 ---
Timelapse Co.
The Lafayette - 20mm - Black Rhodium Finish
LUSTROUS AND DISTINGUISHED
BLACK RHODIUM FINISH PENDANT AND CHAIN

(Photo shows silver finish, but this listing is for BLACK RHODIUM)
The Lafayette isn't just another necklace design. When you're wearing The Lafayette you're not wearing a timepiece; you're wearing a piece of time. Made from a real vintage movement fabricated in Eastern Europe, it traveled for over 40 years around the globe and tens of thousands of miles to end up in our own workshop. After that, it is set in an elegant casing made from recycled and refined precious metals by our own expert jewelers and craftsmen. This isn't a piece made overseas in sweatshops utilizing child labor... it's made with love right in the heart of the Los Angeles fashion district. Unlike other jewelry that claims to be a "timeless" design, The Lafayette truly represents it.
The Lafayette combines the look of artisan craftsmanship reminiscent of the 1980's with modern style to create an authentic design that focalizes its classic Soviet styled movement. The polished finish of the encasing 
hand-fabricated, Sterling Silver bezel creates a lustrous shine around the central movement and highlights the intricate face of the pendant. The movement is covered with an ultra-premium, transparent resin to maintain the design for years to come. The design is topped with a bail that holds a sterling silver chain. Lastly, you can add a customized engraving to make it really personal, or use one of our suggested phrases to complete the story.
Artisan crafted in Los Angeles

1980's style with modern spin

High polished sterling silver .925 bezel


Ultra-premium transparent resin covering

Choose 16, 22, or 28-inch chain

Custom engraving (optional)
---
| | | | |
| --- | --- | --- | --- |
|  Free shipping US orders $99+ |   Worldwide shipping available |  Sustainably sourced precious metals |  Patent pending |
| | |
| --- | --- |
|   100% secure transaction |  100% satisfaction guarantee |